Key Takeaways:
• Factors impacting the value of jewellery include quality, rarity, and market demand.
• Preparing jewellery for sale by carrying out repairs and cleaning can help increase its value.
• Options for selling jewellery include selling online,auctions or directly to dealers and pawnbrokers.

If you're selling silver or gold jewellery, it's understandable to want to get the best price. Whether you're downsizing, your tastes have changed, or you're trying to boost your earnings, it's wise to be aware of tips and tricks to help make the process of selling simple and stress-free and maximise your chances of getting a good offer.
Which factors impact the value of jewellery?
There are several factors that impact the value of jewellery. The most influential include:
Quality: the quality of your jewellery will play a significant role in its valuation. The higher the quality in terms of precious metals or gemstones, the higher its value.
Rarity: rare items of jewellery often command high prices, especially during periods when specific styles are very popular and sought-after.
Market demand: market demand drives prices. If the demand is high, values will increase. If the demand falls, prices will decrease.
How to prepare your jewellery for sale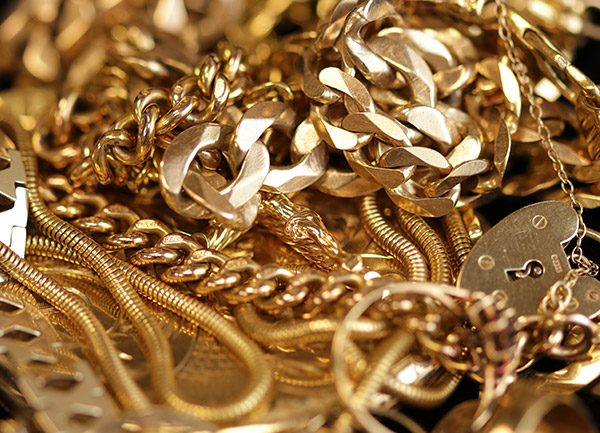 When you sell jewellery, it's beneficial to give yourself the best chance of getting the offer you want. Before you advertise a piece online or visit a dealer or a pawnbroker, follow these simple steps to prepare for sale:
Repairs: damaged jewellery that is in poor condition is not as valuable or as appealing to buyers as pieces that are in good condition. For fine jewellery, it is often beneficial to carry out repairs before you sell to boost the price.
Cleaning: cleaning is an easy, effective way to enhance the visual appeal of jewellery and increase your chances of receiving a great offer. Always ensure that you follow expert instructions when cleaning and polishing jewellery. You should avoid using harsh chemicals when cleaning gold jewellery and gems, for example.

If your damaged or worn jewellery is beyond economical repair, consider a scrap gold buying service.
What are the options for selling jewellery and which is the best?
Today, there is a broad spectrum of options available to people who are looking to sell jewellery. Here are some of the most popular options and the advantages and disadvantages they offer:
Selling online is a convenient option, which enables customers to sell quickly with minimal effort. As well as being able to sell without stress, selling online can also be a cost-effective option. If you choose to sell via a site like UK Scrap Gold, you can take advantage of better prices than dealerships and pawnbrokers because overheads are lower.
Online marketplaces and auctions
Selling items via online auctions and marketplaces has become incredibly popular in the last decade. The main advantage of online marketplaces and auctions is that they offer quick, easy sales processes. The primary drawback is that you don't have a huge amount of control over the price unless you specify a minimum offer value. You may also have to pay substantial fees to list and sell your item.
Auction houses run in-house and online auctions, offering people the opportunity to bid on pieces they like. Selling at auction can be lucrative, especially if there is a lot of interest in the item and this sparks a bidding war, but it can also be risky. There are no guarantees that the item will sell and you could receive a lot less than you hoped unless you set a reserve price. It can also take time to find a suitable auction house and sale. Fees are payable.
Selling direct to dealers and pawnbrokers
If you have jewellery to sell, you may be thinking about going to a dealer or visiting a pawnbroker. Selling direct can provide access to instant funds and simplify the process but dealers and pawnbrokers tend to offer less than online websites because their overheads are higher.
Strategies to get the best price
Here are some strategies to help you get the best price for your jewellery:
Carry out thorough research: find out more about the history of your jewellery, the value of the pieces you own, the level of market demand and current prices.
Negotiate: be prepared to negotiate to get the best offer possible.
Get your timing right: timing can impact prices dramatically. Aim to sell when market demand is high.
Conclusion
There are several options to explore when selling jewellery. Before you decide how to sell, research the market, get some valuations and make sure your pieces are ready for sale. Negotiate, keep an eye on prices and levels of demand and weigh up the pros and cons of different selling opportunities.